LMV800
LMV Series (2 Linear guide way)
Vertical Machining Center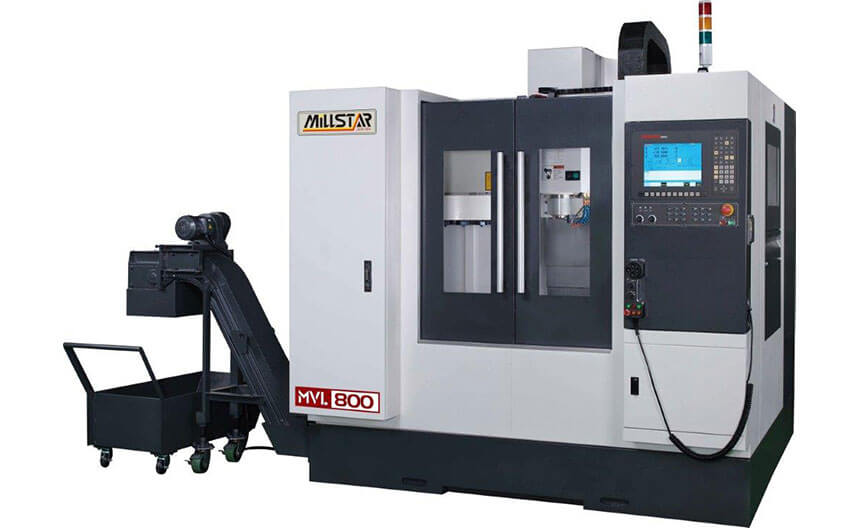 LMV800
(BT40) X800 / Y500 / Z500
The machine design of the Millstar LMV-800 is effective at delivering customer value with low investment costs combined with high production output. This goal is achieved by spindle 10,000rpm, high rapid traverse speed of 36m/min(3-axis) and 20 pockets tool magazine. The CNC controllers of Mitsubishi, Fanuc, Heidenhain or Siemens provide users excellent & friendly machining.
Model
LMV800
Table
Work Table
950 X 500 mm
T-slot
80 X 18 mm X 5T
Max. Loading
500 kg
Travel
Three Axes Travel
800 X 500 X 500 mm
Spindle Nose to Table Surface
125~625 mm
Spindle Center to Column Slide Ways
510 mm
Spindle
Spindle Taper
BT40
Spindle Diameter
Φ70 mm
Spindle Speed
10000 rpm
Feedrate
3 axes Slide Ways
Linear Way
3 axes Rapid Feedrate
36/36/36 m/min
3 axes Cutting Feedrate
10/10/10 m/min
ATC
Tool Magazine type
Armless
Tool Selection
Bi-direction shortest path
Max. Tool Diameter X Length
Φ100 X 300 mm
Max. Tool Weight
7 kg
Tool Shank
BT40
ATC Capacity
20T
Motor
Spindle Motor(cont./30 min)
7.5/11 kw
X/Y/Z axis Servomotor
X,Y:HF224/ Z:HF204B
X/Y/Z axis Ball Screw
Φ32 X Pitch 12
Coolant Pump
660W
Miscellaneous
External Dimensions(L X W X H)
2360 X 2149 X 2545 mm
N.W/G.W.(approx..)
4500/5000 kg
Splash Guard
Fully Splash guard
Coolant Tank Capacity
260L
All specifications and designs are subject to change without prior notice.
Standard Accessories:
Mitsubishi M80 controller
8.4" color LCD
Leveling kits and blocks
Tool box with tools
Spindle speed 8000 rpm,BT-40(LMV-850~LMV-1400)
Spindle speed 10000 rpm, LMV-510/710/800
Spindle speed 4500 rpm,Belt drive, BT-50,LMV-1200/LMV-1400
Spindle air blow system
Coolant system
Auto power off
Heat exchanger
Auto lubrication system
20 tools armless type ATC
Rigid tapping
Screw type chip conveyor with cart
M code air blasting
RS232 interface
Fully splash cover
Quartz working light
Transformer(Export only)
Optional Accessories:
Fanuc/Mitsubishi M800/Siemens/Heidenhain/Fagor
10.4" color LCD
Spindle speed 10000/12000/15000 rpm(BT40),Direct Drive(DDS)
Spindle speed 6000/8000 rpm(BT50)
Spindle oil cooler(LMV510/710/800 std.)
ZF gear box(BT40/BT50)
Japan HAMADA Gear head(BT50),LMV-1200/LMV-1400
4th axis interface (not include motor & drive)
CNC rotary table with drive,motor
Coolant through spindle 20/30/50 BAR(CTS)
Air conditioner for electric cabinet
24 tools arm type ATC (BT40/BT50)
32 tools chain type ATC (BT50)
Steelbelt type/Scraper type chip conveyor with cart
Chip flushing system
CE norm
Oil skimmer
Automatic tool length measuring device
Automatic work piece measuring device